Release date : August 17, 2018
Genre : Young adult, romance
Casts : Lara Condor, Noah Centineo
Rating : ★★★★(4.5)
SYNOPSIS
A teenage girl's love letters are exposed and wreak havoc on her life.
-----
Kepada sesiapa yang belum tahu, movie ini merupakan adaptasi novel bersiri yang pertama ditulis oleh Jenny Han. Ketiga-tiga novel ini berjaya menarik minat pembaca dan menjadi salah satu novel terlaris. Lara Jean, seorang gadis remaja dengan kisah cintanya.
I memang nak sangat tengok cerita ni sebab I ter-skip novel yang pertama ni, tapi I rasa jalan cerita dia sama dengan novel yang kedua, P.S. I still love you, sebab banyak scene yang familiar pada I. Semua crush LJ terima surat-surat cinta yang ditulis oleh LJ selepas adik LJ sendiri yang pos surat-surat tu. Peter orang pertama yang jumpa LJ dan orang pertama yang LJ kiss. Sebenarnya dia kiss sebab nak elak Josh datang dan tanya pasal surat tu.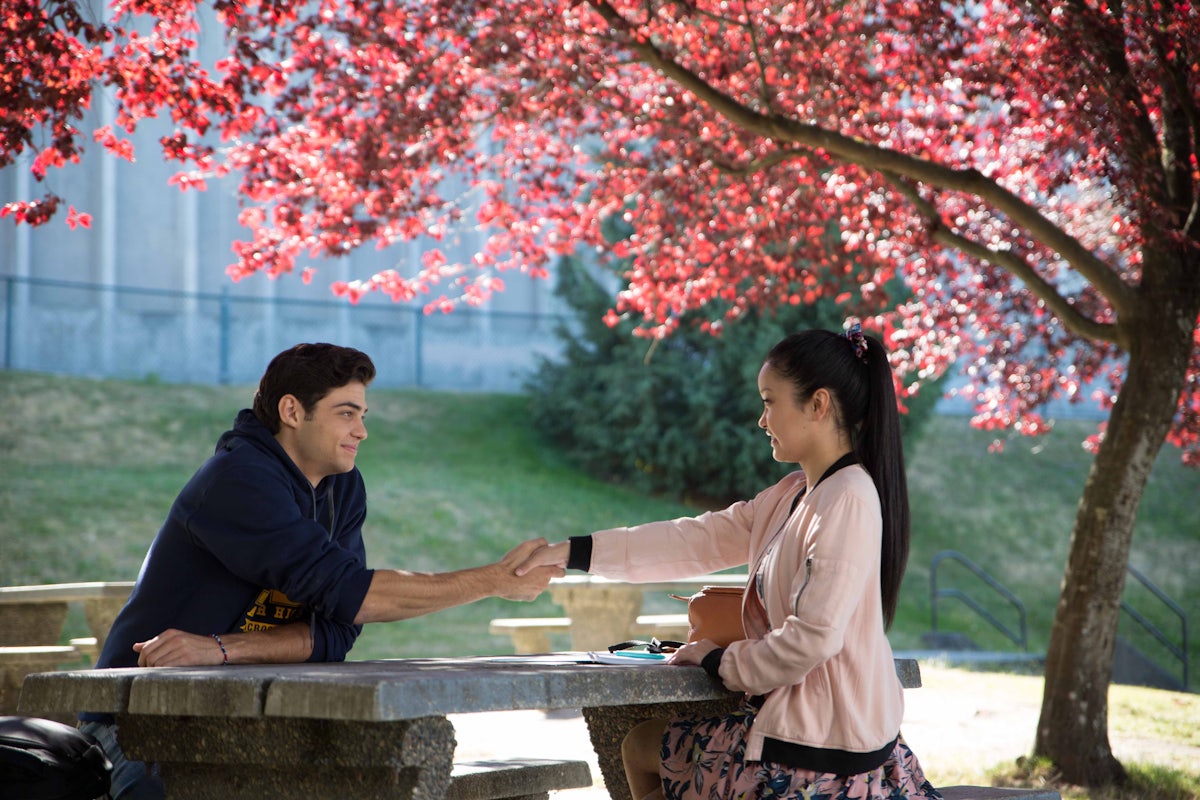 Selepas tu, mereka berdua plan nak buat fake relationship. Pertama, sebab Peter nak buat ex-girlfriend dia cemburu. Kedua, LJ nak tutup malu dia sebab kiss Peter dekat public. Bila dah lama kenal, masing-masing dah tau kisah peribadi, mula la terbuka pintu hati mereka untuk satu sama lain.
I enjoyed the movie. Lara Condor sangat comel dan sesuai dengan Noah. Mereka ada chemistry untuk pegang watak ni. I suka scene Peter K menjerit bagitau semua orang pasal video viral dia dengan LJ. Dia bagitau apa yang sebenarnya terjadi untuk orang lain berhenti bercakap pasal tu dan membuat LJ tak selesa.
Cerita cliche sebab kisah percintaan remaja, tapi kalau korang baca ketiga-tiga novel, memang seronok. Cara mereka selesai masalah, cara mereka pertahankan hubungan mereka. Dan Peter K sangat sweet dan setia. Dia sangat sayangkan Lara Jean.
Nota : Semua gambar di atas adalah dari Google.
---
Annyeong, chingu ! Terima kasih kerana meluangkan masa di blog ini.
---